Welcome! I'm Sean Sullivan, a San Francisco-based psychologist and therapist. In my psychotherapy and coaching practice set in a peaceful historic park in Presidio of San Francisco I work with clients to address pressing emotional challenges and achieve personal goals.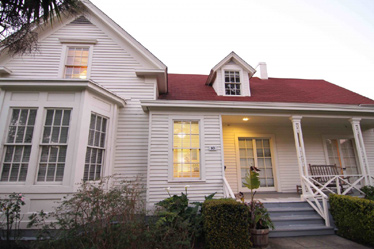 *I've recently opened a beautiful new office space near Mill Valley as well. Just let me know if this location may work better for you.*
After I clearly understand your current situation, I can help you see and address the roots of your discontent and make lasting changes. I'll show you how to apply what leading-edge psychology and brain science have taught us about effectively coping with stress, anxiety, depression, challenging relationships or marriages, and even existential issues.
We'll create a plan based on your unique situation and personal preferences. I'm your personal therapist or coach first. But, I'll also teach you what we now know about how to blend some remarkable new discoveries of brain science into your life to make the personal changes necessary to achieve your goals. When you're ready, we'll begin moving through my brain-science based program called, Be Your Purpose: Ten Steps to Feeling & Performing Your Best.
You can click right here to learn more about the type of therapy and types of challenges I often work with. 
Once you feel satisfied that you are moving toward where you want to be emotionally, we can also consider the more structured approach of a Mind Master Program. TheMindMaster.com hosts 21-Day Brain Training Programs that teach how to apply brain science, step-by-step, to achieve specific personal goals like mastering stress and anxiety, overcoming depression and losing weight.
The Mind Master Programs are based on my book, The Mind Master's Silent Journey. That's the book that Bob refers to in the video further below on this page. You may also want to check out the popular The Mind Master's Map iTunes apps located here. 
Each of these resources will show you how powerful your brain can be when you know how to use it to effectively influence your emotional, and physical, experience.
Of course, I also invite you to browse through this website to learn more. If you decide I may be a good fit as your therapist, please contact me by phone at (415) 335-7542 or email me at Sean@DrSeanSullivan.com.

TESTIMONIALS
"Dr. Sullivan is a game changing new voice in the psychology of peak performance." –Mark Sanchez, New York Jets

Alina Talks About Her Experience
"I didn't want The Mind Master Journey to end." –Tabatha Gray
Marta Talks About Her Experience
"A STUNNING work about the brain's potential–and it is beyond insightful!" –Barbara Rainess
Courtney Talks About Her Experience
"Thank you, Dr. Sean, for making it available to all who are ready to awaken with the help of moder psychology science." –Bob Kondek
Bob Talks About His Experience
"The Mind Master Journey has given me a clearer vision of what I truly desire out of my one precious life." –Sonali Balakrishna